Gstar Parachute Front Container

The Gstar redefinines parachute front containers.
Gstar stands for reliable parachute deployment even when the pilot is subjected to high g-forces. The clever release mechanism facilitates deployment from either side, using either the right or the left hand. The laterally positioned handles are within sight of the pilot and can easily be reached even if the pilot's upper body is in a reclined/supine position (e.g. when exposed to high g-forces). Pilots with shorter arms can also reliably deploy their parachute.
Deployment is nearly instant, due to the close connection between the handle and the parachute container. Flexible nylon pins permit the parachute to be deployed with little resistance, in any direction of pull.
The compact design means the pilot will not be obstructed during take off or in-flight.
The stiff handles rest flat on the container and retain their shape even during transport or long-term storage in a compressed glider bag.
The parachute connector (Y-bridle or Beamer 3 riser extension) simultaneously acts as the main hang point. It is enclosed in a protective sleeve and fitted into the side of the container.
Other features:
> Light and compact design
> Quick and simple installation
> Long nylon pins to prevent accidental deployment
> Transparent inspection panels to check pins are secure
> The parachute connector/main hang point is securely fastened to the parachute container to prevent dislodging
> Velcro panel and lanyard to secure flight instruments
> Compatible with all modern harnesses and parachutes
> Made in Europe
Optional accessories: Peguet Rapide Inox Maillons and O-rings to securely fasten the Y-bridle with your round or cruciform canopy.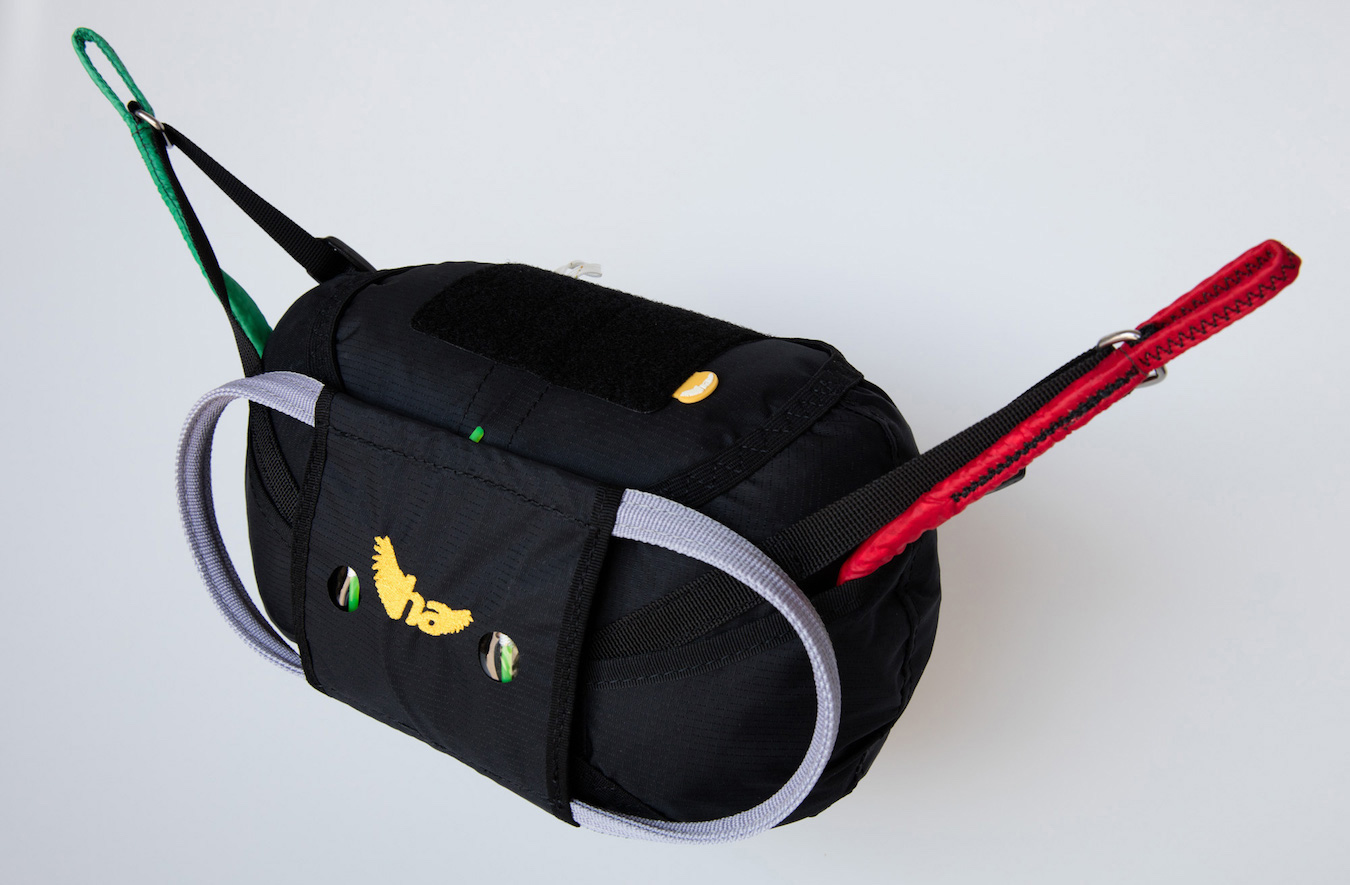 Available in three sizes
S: suitable for Beamer 3 Light #100 or other modern lightweight parachutes
M: suitable for Beamer 3 #100 & Beamer 3 Light #130 or other modern lightweight parachutes
L: suitable for Beamer 3 #130 or other conventional parachutes
Size
S
M
L
Weight including handle, excluding parachute bridle
123g
127g
135g
Parachute Y-bridle distance to the Gstar 0.80m. Weight:
34g
Riser extension for the Beamer 3 to the Gstar. Weight:
27g
Colour
Graphite
A retrofit riser kit is available for the Beamer 2. Our sewing workshop will be
happy to help.