Comfortable Cruiser"
The Kamasutra II takes over from the famous Kamasutra. At first sight you may only notice small aesthetic changes; but subtle changes in the architecture have also improved the ergonomics and comfort.
This harness allows the pilot to fly in all positions with no adjustments required to change from one position to another.
The KARVE System, a unique system of load distribution by sliding straps, makes this result possible.
The factory settings are ideal and the contact of the harness with the back is perfect, resulting in an exceptional level of comfort in all positions.
For those that prefer a seated position, a limiting strap allows the pilot to lock the position of the harness at any time and to return to a standard setting. Two buckle "V" clip in, with integrated non-forgettable clip-in system and adjustable roll damping in flight is standard.
Features
Roll damping independent of chest strap setting and adjustable in flight.
Independent pocket for a water bottle and/or radio in the back pocket. Two external side pockets, plus a radio pocket.
Direct access from the back pocket to the shoulder for a drink delivery tube and/or radio microphone cable.
Foot stirrup adjustable in the air, can be used to help turn the glider.
Accelerator connected to the foot stirrup by an elastic cord allowing it to be brought into action quickly without using hands.
There is now a quick release system that releases the foot stirrup when the rescue is thrown away:
Here is how to set it up: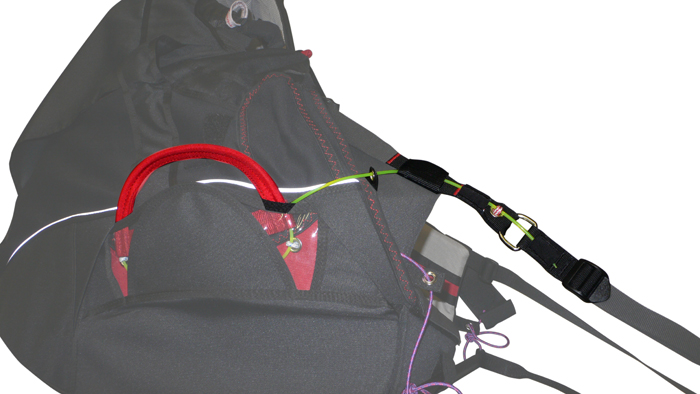 Safety
Reserve parachute pocket under the seat; handle on the right.
Mousse bag: Segmented, 17cm
The serial number and the size are in the rear pocket.
Galerie