The sporty lightweight
ALTUS – lightness meets safety
At only 3.5 kilograms the ALTUS is extraordinarily light, extremely comfortable and for its class, has a unique level of safety: under the seat is a ready for action Pre-inflated Airbag. This airbag is shaped using a durable foam mesh. Once in the air, the airbag also supports the pilot's back.
More safety. Das ALTUS The ALTUS is fitted with an innovative Pre-inflated Airbag When the harness is taken out of the bag, a durable and mechanically robust foam mesh starts to expand, which pre-inflates the airbag. Once in the air, this protection is augmented with a thick cushion of air around the pilot's back. The parachute container is fitted within the airbag in order to minimise injury in the case of an impact where the reserve has not been deployed.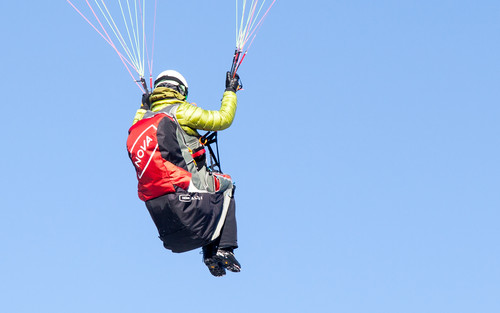 More flying fun. An innovative and size-appropriate geometry (for more info see the Taylor-made Geometry) section below) has allowed our test pilots to develop a well-thought-out combination of turbulence dampening with the agility required for precise wing control. The chest strap allows sufficient adjustment possibilities to match individual requirements. The stiff but simultaneously ergonomically comfortable seat plate facilitates precise flying.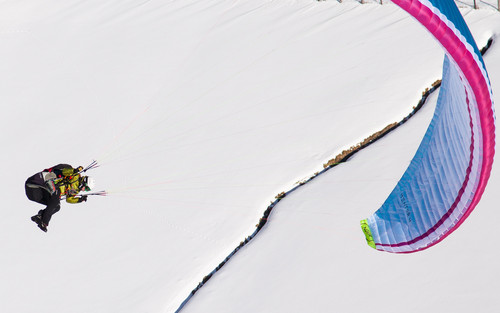 More compact. Large packs and big weight are history: due to its Pre-inflated Airbag, the ALTUS is small and at 3.5kg is extraordinarily light but without compromising on passive safety. The foam mesh can be highly compressed and apart from the material, the airbag packs down to nothing. The ALTUS is therefore the perfect all-round harness for a diverse range of pilots.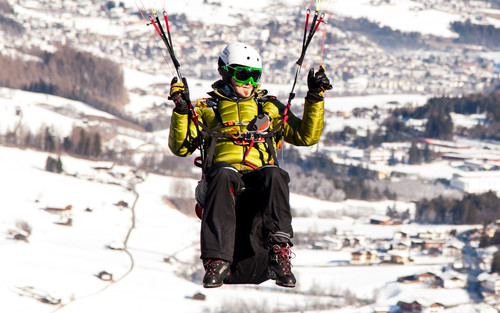 Size
S
M
L
Pilot height
<171cm
170-180 cm
>180cm
Weight
3.5 kg
3.7 kg
4.0 kg
Certification
PH 130.2015
Maximum clip-in weight
130 kg (LTF)
Energy absorbtion value
24g
Colours
 NOVA Red
Downloads
Manual (PDF)
Certification (PDF)
Target Group
The ALTUS is suitable for a diverse range of pilots. It offers a high degree of passive safety combined with little weight and excellent flying characteristics. In contrast to most reversible harnesses, it is intended for everyday use.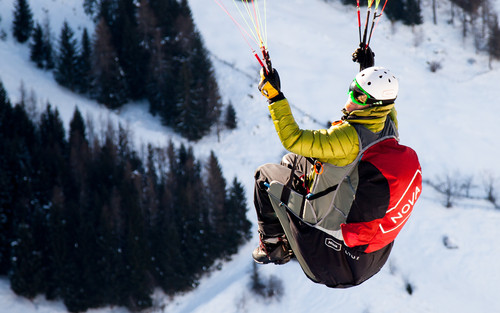 A summary of the most important points:
> High passive safety despite little weight, thanks to the Pre-inflated airbag.
> The rescue container is enclosed within the airbag; the parachute handle is individually adjustable.
> The left hang point is red, the right green – this helps to avoid incorrectly connecting the risers. In the PRION 3 this colour scheme has also been used for the risers.
> The leg loops are also differentiated by colour: left is green, right is red.
> The leg and chest straps are separate in order to improve the pilot's feeling of connection to the harness and additionally to avoid the leg loops getting in the way during groundhandling.
> The buckle on the chest strap is connected to a leg loop with a safety strap.
> A handy pouch can be used to store a camera or muesli bars – it is within easy reach and secured with a zip.
> A piece of Velcro on the shoulder strap permits easy attachment of a mini-vario or SPOT device.
> The panel on the bottom of the harness can be replaced – any evidence of an untidy landing can be removed easily (for more info see the Abrasion Protector section below)
Features
Galerie